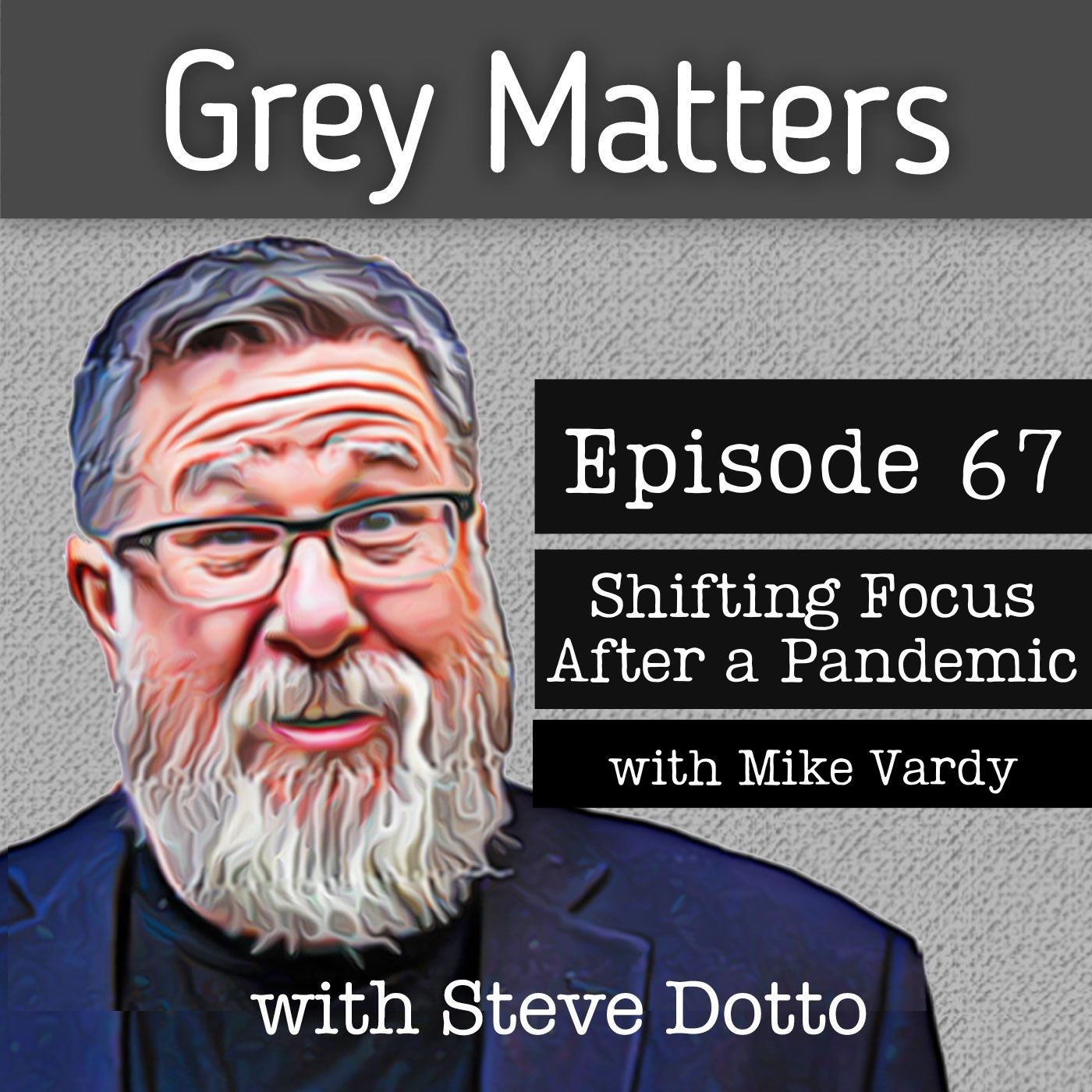 Show Notes
What does the guy who lives and breathes productivity do to adapt focus when a pandemic hits? You're about to find out, and possibly feel better about the challenges and solutions you've experienced as the world turned topsy-turvy. 
In this episode of the Grey Matters podcast, Steve welcomes Mike Vardy, founder of Productivityist and author of The Front Nine: How to Start the Year You Want Anytime You Want, The Productivityist Playbook, and TimeCrafting: A Better Way to Get the Right Things Done (coming soon!). 
The pandemic caused a seismic shift in all of our lives, as well as a shift in what has worked for us focus our time on being productive. Steve and Mike chat about misconceptions about how we all assumed we could focus more, how we all thought we'd spend our time, and how we plan to focus in the future.
You'll recognize the phrases and sayings we've all been hearing for the last 12+ months, which Mike and Steve have some rather particular reactions to as the realities of time management have been anything but simple. 
Your challenge? Focus on this podcast and let us know what you get out of it and how you're crafting your time today!
---
Links from this Episode
Twitter introduces the Tip Jar
Bitcoin worthless? So says the Bank of England. 
Instagram adds caption stickers to Stories and (soon) Reels
U.S. taxes YouTube creators from afar
---
Our other things:
All our other Links Worth Visiting!
---
About Us:
Steve Dotto - Host
Canada's favourite geek. 
For over 20 years, as host and executive producer of Dotto Tech, a nationally syndicated TV show, Steve entertained and educated millions of Canadians on all aspects of technology.
After spending 20 years in traditional broadcasting Steve reinvented himself learning the world of social media, online community building and Internet Marketing as he built his YouTube channel into his new career.
His passion is teaching Baby Boomers and GenX how to remain relevant in the digital age, how we can reinvent ourselves and grow side hustles into successful online businesses.
Steve has a gift for making complex concepts easy to understand. Steve takes the world of technology and makes it relevant in your life.
Rachel Moore - Producer
From stage to studio, Rachel has honed her skills as an entertainer, producer, and marketer throughout her 20+ year career. As technology and communication has evolved, so she has carried her skills in writing, graphic design, and production forward into digital marketing, livestreaming, and podcasting. 
In addition to working as a fulltime content marketer, Rachel hosts her own livestream show Social Glue, publishes helpful how-to videos to her YouTube channel, and produces entertaining and insightful podcasts for Really Social as well as Grey Matters. 
Bottom line: if there's a camera, microphone, and/or stage involved, Rachel can carry the message in a memorable way.